1 Maret 2018
Monitor 24 inch harga super murah
Monitor 24 inch harga super murah BenQ GL2460 Now Only 1.575.000 24 inch with DVI Input AOC M2470SWH Now Only 1.699.000 Free Keyboard Mouse 24 inch with HDMI dan Speaker
detail
7 Februari 2017
BenQ ZOWIE Meluncurkan Monitor Game e-Sports dengan Teknologi Native 240Hz XL2540 untuk Mendapatkan
BenQ ZOWIE Meluncurkan Monitor Game e-Sports dengan Teknologi Native 240Hz XL2540 untuk Mendapatkan Pengalaman Bermain Game yang Sangat Lancar Semua Monitor Game e-Sports Terbaru oleh BenQ ZOWIE XL2540 dengan Native 240Hz Refresh Rate & XL2735 dengan Teknologi Eksklusif DyAcTM Jakarta, Indonesia, 25 Januari, 2017 – Dengan semarak tahun baru, BenQ ZOWIE mengumumkan monitor game e-sport terbarunya yakni XL2540 dan XL2735 yang menyediakan pilihan tambahan untuk memperkaya pengalaman bermain setiap individu. Acara peluncuran kali ini dalam rangka mengumumkan edisi terbaru dari seri XL BenQ ZOWIE untuk PC e-Sports – monitor gaming e-Sports 24.5" dengan resolusi FHD - XL2540 yang diperkaya dengan native 240Hz refresh rate untuk meningkatkan pengalaman bermain ketika komputer beroperasi diatas 240 frames per second (FPS) dan memberikan pengalaman bermain paling lancar dan terbaik. Monitor lain yang juga menjadi bintang dalam acara peluncuran ini adalah XL2735 - monitor gaming e-Sports 27" WQHD yang dibuat dengan teknologi eksklusif DyAcTM dari BenQ ZOWIE yang memberikan kejernihan yang mengagumkan pada pergerakan dalam game sehingga mencapai pengalaman bermain yang lebih lancer dan memampukan atlit e-Sport dan gamer professional untuk menangkap dan menembak target dengan tepat. Seri XL dari BenQ ZOWIE memiliki fitur monitor premium untuk PC e-Sports, yang disesuaikan untuk menjamin pengalaman bermain paling lancer dan responsif, dan menampilkan gambar yang paling jelas untuk mempersenjatai atlit e-Sport & gamer professional dalam kompetisi. Kedua monitor gaming e-Sports ini juga dilengkapi dengan Shields, yang membantu atlit e-Sports dan gamer professional tetap focus pada permainan, dan frame LCD yang didesain special untuk mengurangi pantulan cahaya dari layar untuk pengalaman bermain yang lebih baik. Disamping desain dan fitur-fitur terbaru, fitur-fitur lain yang merupakan ciri khas dari BenQ ZOWIE juga tetap dipertahankan pada kedua model ini – Black eQualizer yang berfungsi untuk meningkatkan visibilitas pada scene gelap tanpa membuat area terang overexpose, S Switch yang didesain untuk akses pengaturan yang mudah dan merubah antara mode-mode permainan yang telah disimpan, lalu The Height Adjustable Stand guna mengatur ketinggian monitor sesuai sudut pandang dan memaksimalkan kenyamanan para atlit e-Sports & gamer professional dan Color Vibrance yang memberikan flesibilitas sebanyak 20 level pengaturan untuk mendapatkan color performance sesuai pilihan. BenQ ZOWIE juga menawarkan serangkaian penuh jajaran perpipherals baik Mice, Mousepad, Audio System to Accessory. Mengkombinasikan kompetensi utama dari BenQ dan ZOWIE, BenQ ZOWIE menjanjikan inovasi-inovasi yang akan meningkatkan performance dan kenyamanan atlit e-Sports & gamer professional seutuhnya, dari monitor ke peripherals, dair hulu ke hilir. Monitor BenQ ZOWIE dibandrol dengan harga retail Rp 8.000.000 untuk tipe XL2540 dan Rp 10.200.000 untuk XL2735
detail
» index berita
»

BenQ SW240 Photographer Monitor 24.1 Inch, Adobe RGB
BenQ SW240 Photographer Monitor 24.1 Inch | Adobe RGB

With Adobe RGB wide color space

Devoted to meet the latest professional color standard, BenQ has developed AQCOLOR technology to uphold the concept: "Accurate Reproduction". BenQ has invited a color expert to lead the team, and also actively participated in ICC (International Color Consortium) and ISO (International Standard Organization) to establish color-related standards and implementation.
See the true colors of nature! Adobe RGB color space offers a greater range of color reproduction for shades of blue and green, resulting in a more realistic color representation for outdoor and nature photography.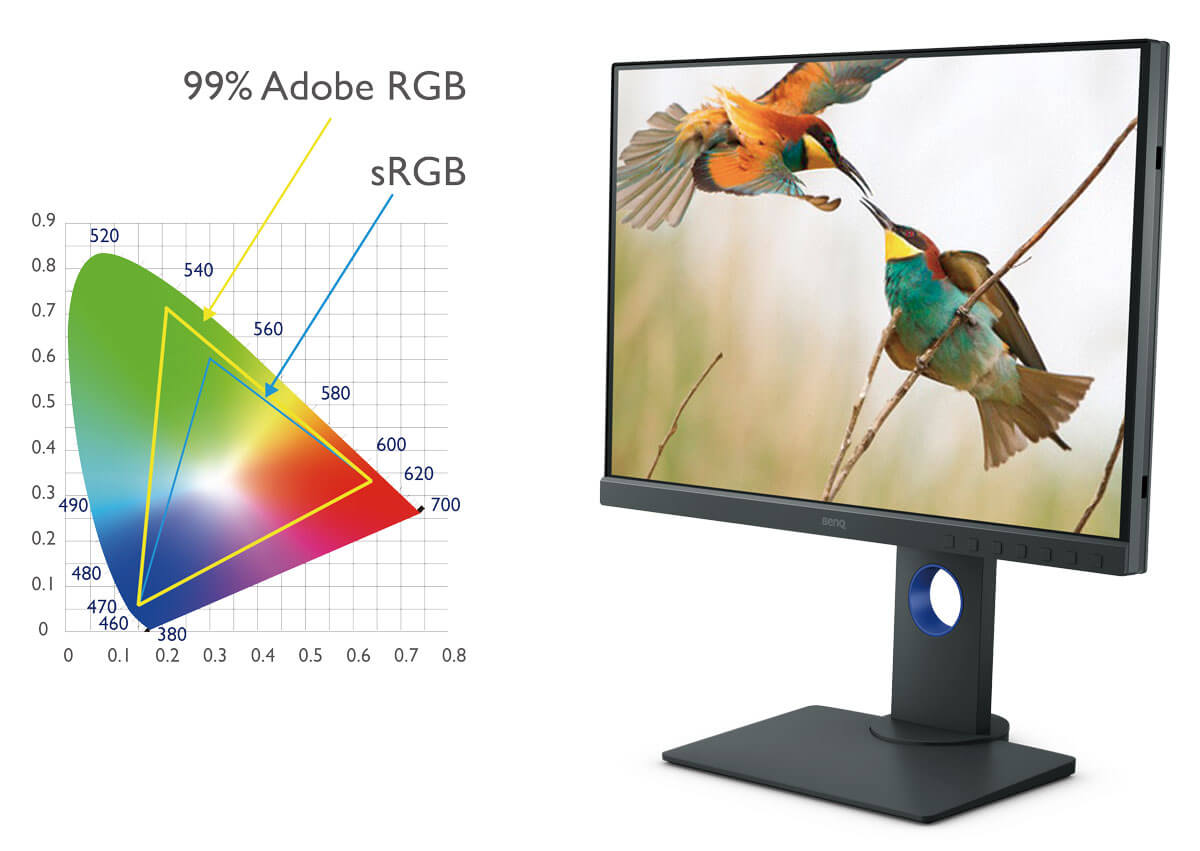 Enjoy the smoothest color gradations on a 10-bit display which shows more than one billion colors.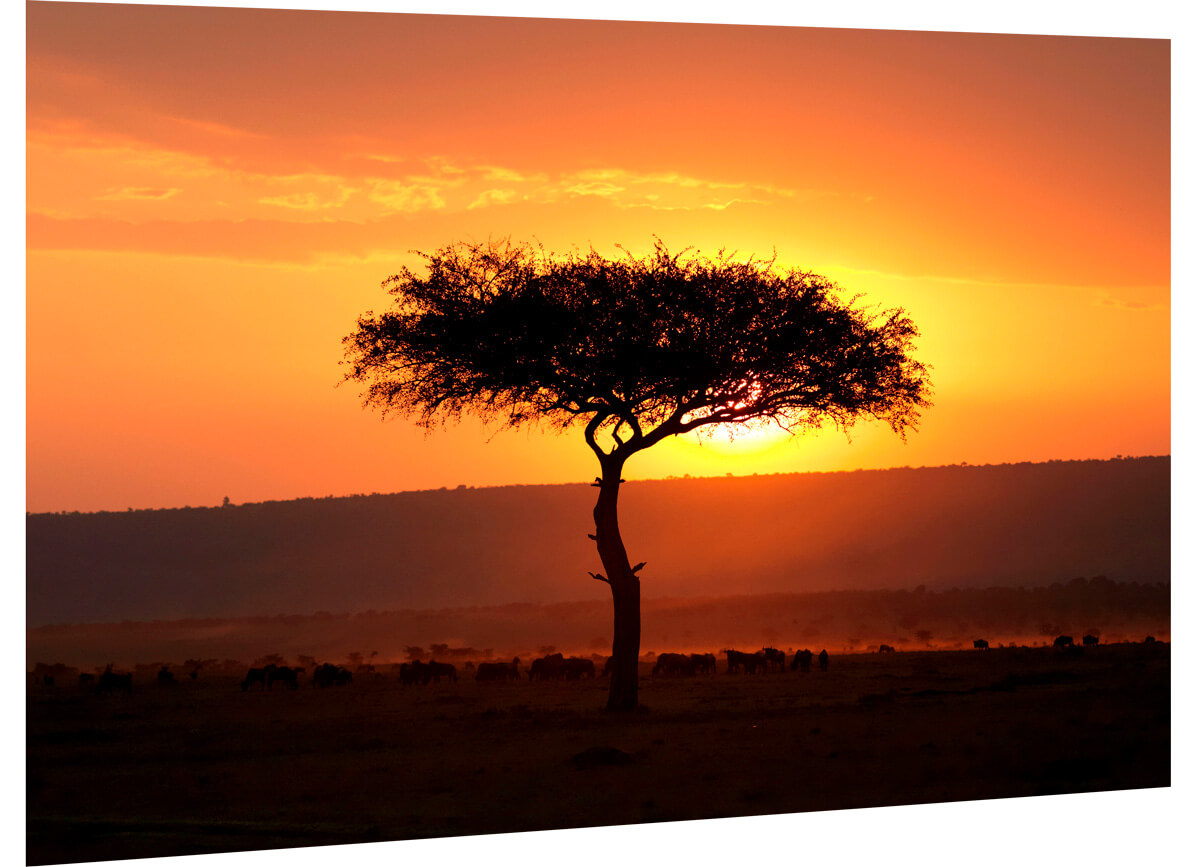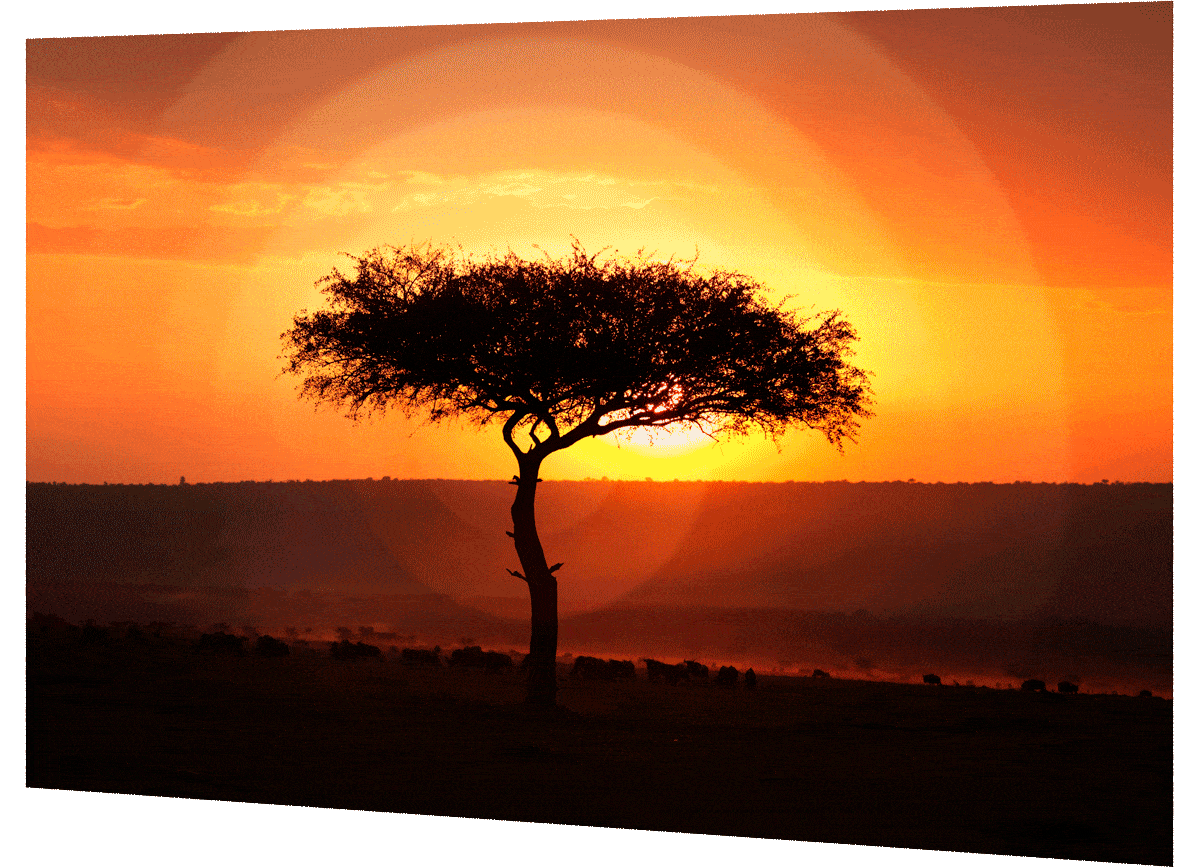 14-Bit 3D LUT and Delta E ≤ 2
The 14-bit 3D Look Up Table (LUT) improves RGB color blending accuracy, resulting in impeccable color reproduction. Having Delta E≤2 in both Adobe RGB and sRGB color spaces gives you the truest and most representative view of the original image.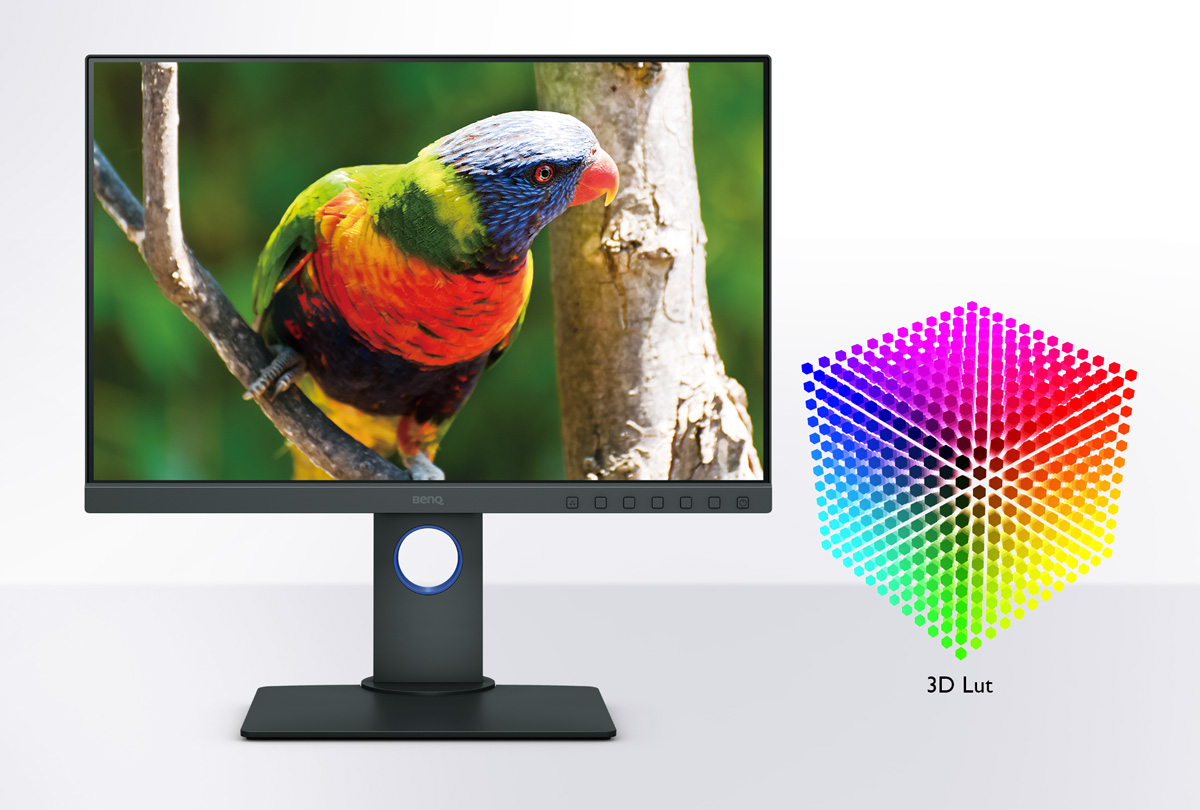 Professionally Factory Calibrated for Exacting Color Accuracy
Each BenQ Photographer Monitor is individually factory-calibrated upon production to assure precise Delta-E and Gamma performance. Achieving an average Delta E≤2 in both Adobe RGB & sRGB color spaces, calibration results are validated against industry color standards to deliver the truest and most representative view of original content.
*Calibration eliminates slight color performance variations between individual panels of the same model. Therefore, the calibration data of each report will vary slightly from reports from other displays of the same model.

CERTIFIED with VERIFIED by CalMAN and PANTONE VALIDATED
With the certification of Verified by CalMAN and Pantone Validated, BenQ SW240 monitors maintain truthful colors, which promise industry-approved performance creative enterprise will love to use.
Hardware calibration allows you to adjust the image processing chip in the monitor without changing the graphics card output data. It keeps images consistent with its original copies without being affected by graphic settings.
* Shading Hood (SH240) is an optional accessory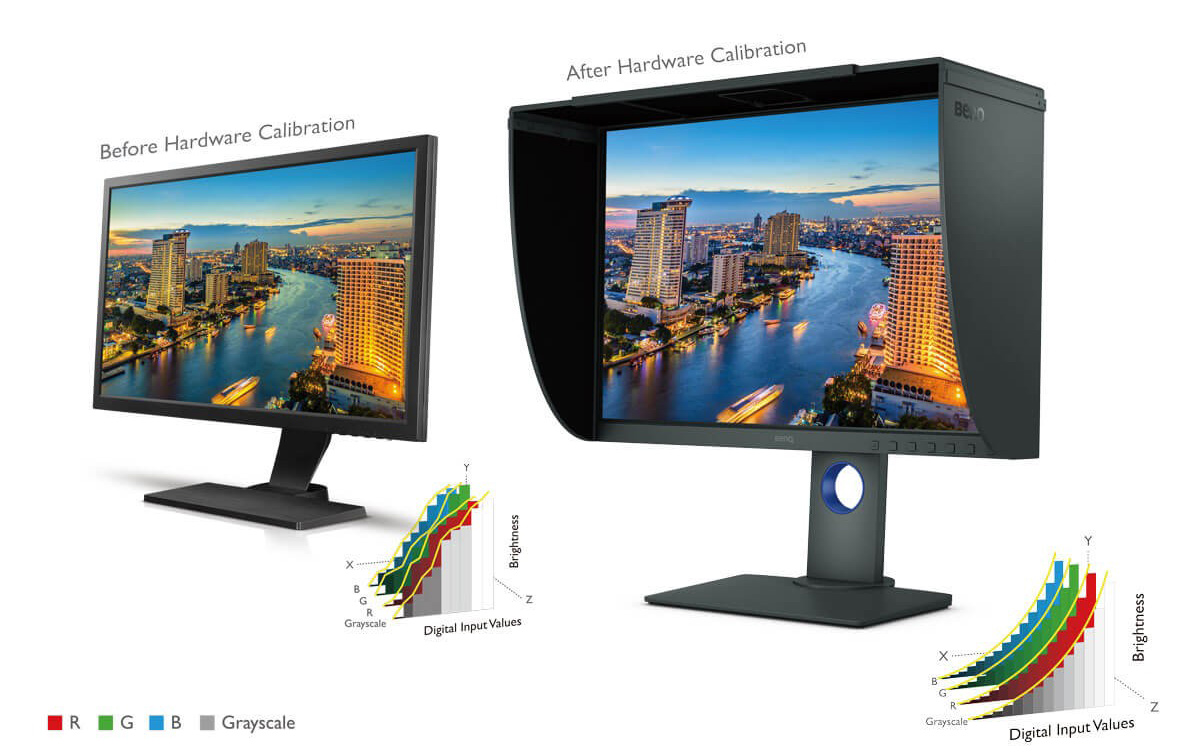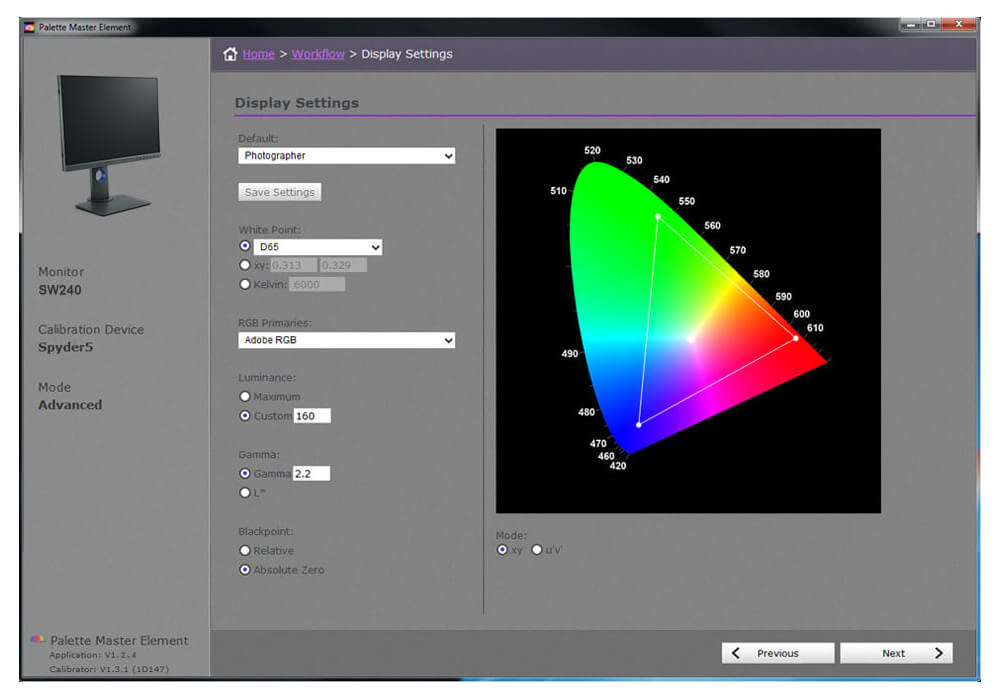 Palette Master Element Calibration Software
With the use of Palette Master Element and a calibrator, you can tune and maintain the color performance of the monitor at its most optimal state.
* Supported Platforms: Win7 or above, Mac OS 10.6.8 or above
* Supported Calibrators: X-Rite i1 Display Pro / i1 Pro / i1 Pro 2 & Datacolor Spyder 4 / Spyder 5
Simple, Functional Design for Greater Efficiency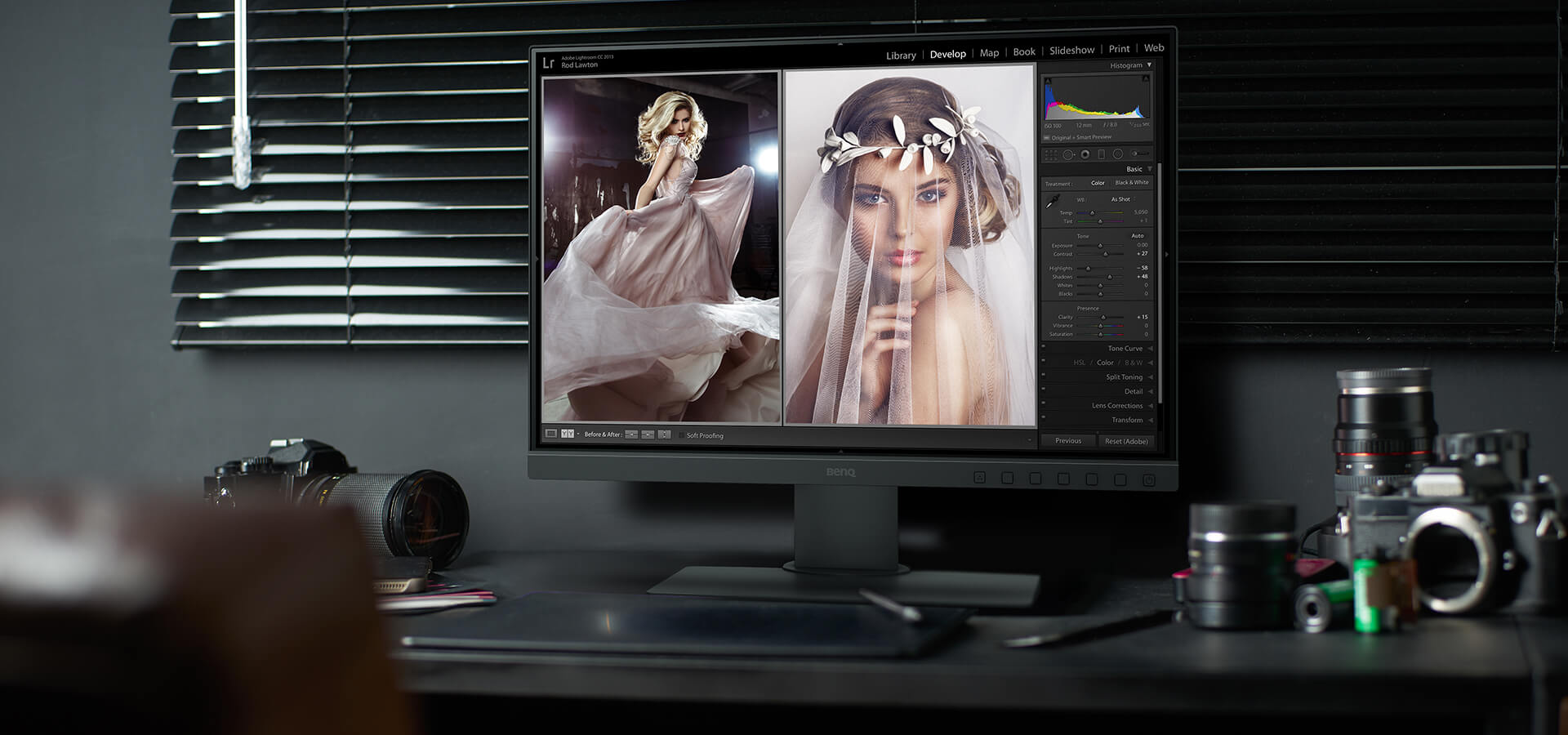 Extra Space for Viewing Convenience
Enjoy the extra space offered by the SW240's 24.1" 1920x1200 screen size with 16:10 ratio - perfect for professional photographers, or just daily usage. The SW240's slightly larger size is perfect for viewing two full A4 sized documents side by side, allowing photographers to compare the content at a glance.
The SW240's inbuilt Color Mode HotKey allows you to swiftly switch between 3 preset color modes without having to press other OSD buttons. And you can also customize your preferred preset modes based on your own personal display needs by pressing the HotKey for 5 seconds.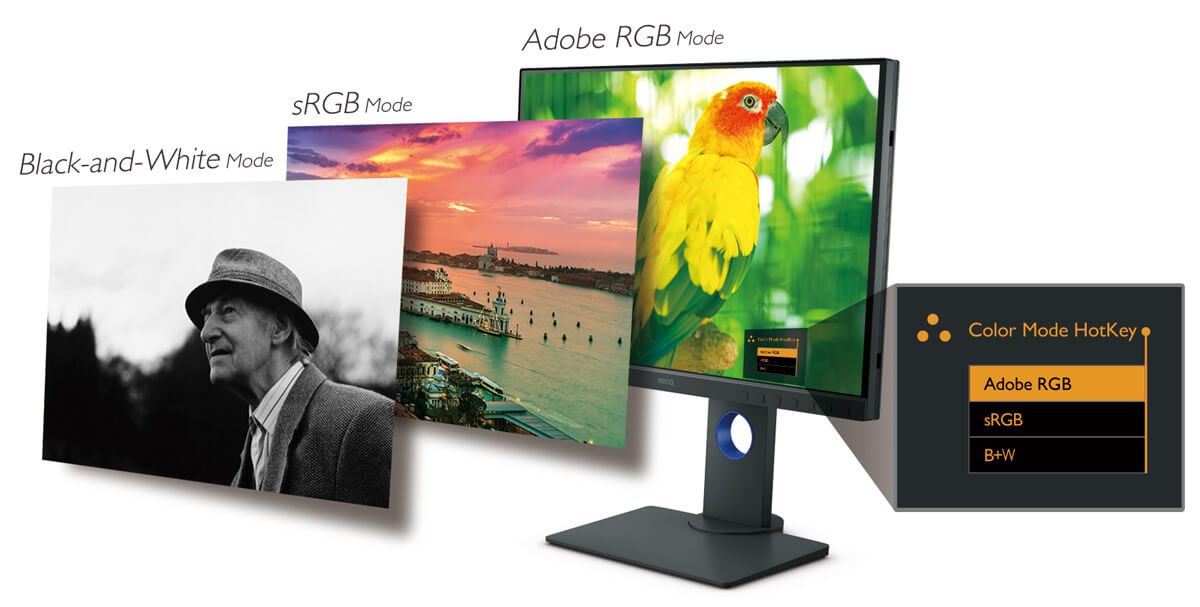 Advanced Black & White Mode
View your photos in a black and white film effect. Choose from three different black and white presets to preview your photos in before you perform actual adjustments in your photo processing program.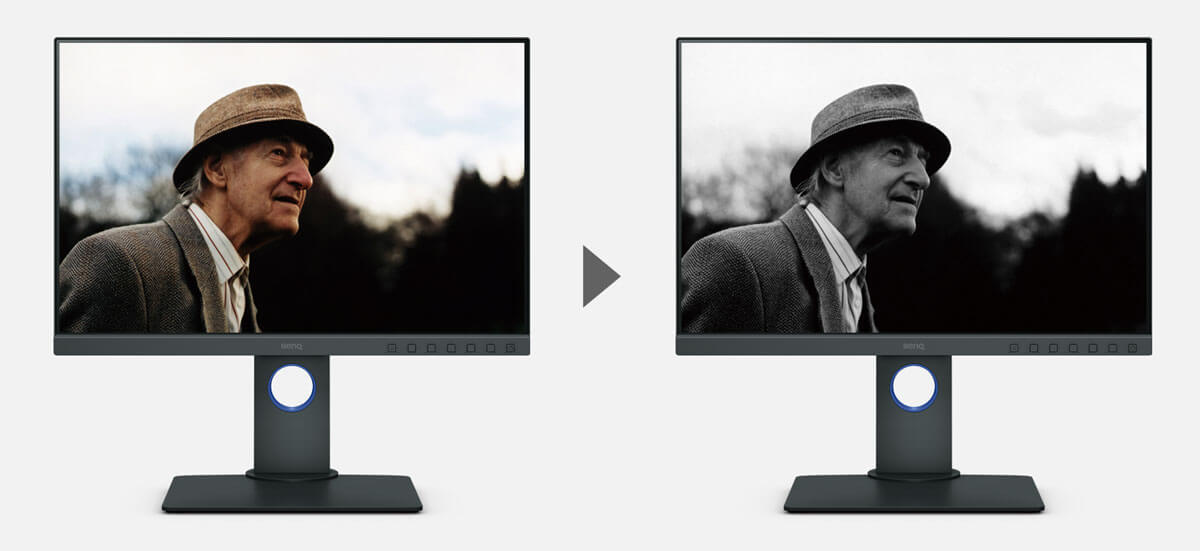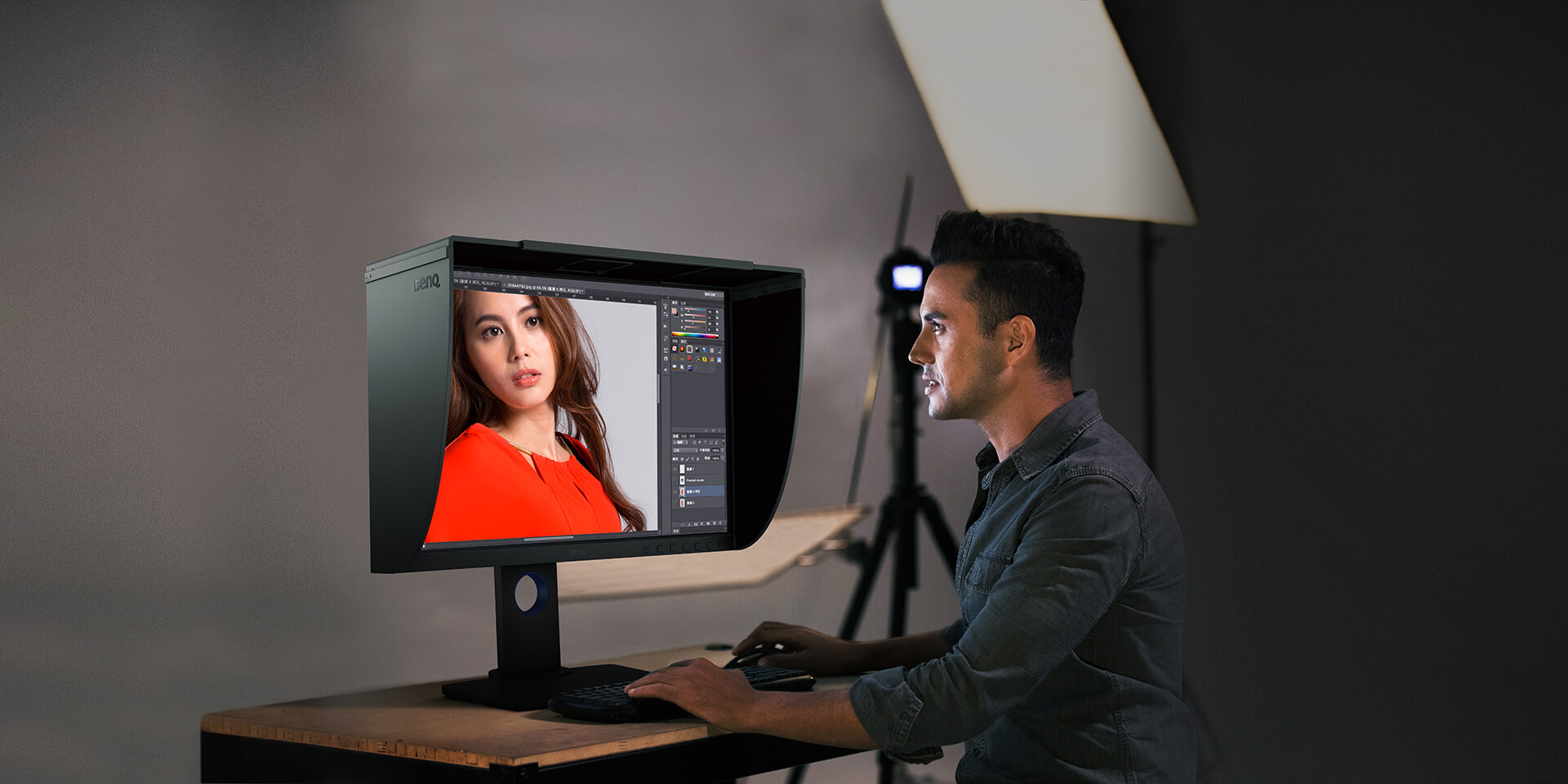 A detachable shading hood is available as an optional accessory for SW240 which can effectively reduce the monitor's screen glare resulting from ambient lighting, ensuring superb color accuracy required for professional work. The shading hood can be used for both portrait and landscape orientations.
* Shading Hood is an optional accessory
* How to mount Shading Hood


Industry-Leading Eye-Care Technology
BenQ exclusive eye-care technologies reduce eye fatigue for user comfort, enhanced productivity, and workplace safety during extended use.
Main Specifications
All Specifications
Display
Viewing Angle (L/R;U/D) (CR>=10)
Color Gamut
99% AdobeRGB. 100% sRGB. 95% DCI-P3
DCR (Dynamic Contrast Ratio) (typ.)
Audio
Monitor
Color Mode
Adobe RGB/ sRGB / Rec 709/ DCI-P3 / B&W / Darkroom/ DICOM /Calibration 1 /Calibration 2 / Calibration 3 / Custom 1 / Custom 2
Display Mode
Full, Aspect Ratio, , 1:1
Color Temperature
5000°K / 6500°K/ 9300°K / User Mode
OSD Language
18 Languages (English / Francais / Deutsch / Italiano / Espanol / Polish / Czech / Hungarian / Romanian / Netherlands / Russian / Swedish / Protuguese / Japanese / Chinese / S-Chinese / Arabic/Korean)
Professional
Factory Calibration Report
Connectivity
Card Reader
SD/MMC type
Support Format: SD/SDHC/SDXC/MMC
Power
Power Consumption (on mode.)
Power Consumption (based on Energy Star)
Power Consumption (stand by mode)
Power Consumption (sleep mode)
Dimension and Weight
Dimensions (HxWxD mm) (w/o Base) (with shading hood)
Dimensions(HxWxD mm) (without shading hood)
Landscape: 428.5-543.51 x 533.2 x 230.71
Pivot: 631.98 x 356.2 x 230.71
Dimensions (HxWxD mm) (w/o Base)
Dimensions (HxWxD mm)
Landscape: 428.5-554.91 x 545.4 x 300.95
Pivot: 643.38 x 368.4 x 300.95
Net Weight (kg) (without shading hood)
Net Weight (kg) (without stand)
Software
Support Calibrator
X-Rtie i1 Display Pro / i1 Pro /i1 Pro 2 /i1 Studio , Datacolor Spyder 4/5
Environmental Standards
Video Signal Data
Included Accessories
Other Accessories
CD, QSG, Individual Calibration Report
Signal Cable
mDP to DP cable(1.8m), ,DVI-DL cable (1.8m), USB 3.1 cable (Gen 1)(1.8m)
Reliability
Operating Humidity (non-condensing)
Compatibility
Windows® Compatible
Windows®10, Windows®8.1, Windows®8, Windows®7

031-5347514
031-5321220
085100638819
Pin BB :
HERMAN75
WA :
081 2328 8819
EDY
gak bisa ngomong apa apa deh, bener" the best seller
Hans
Beli monitor AOC, fast response , barang sesuai keinginan, harga mantab
Adrian Riyadi
Seller terpercaya, fast respond, baik dan ramah.. Harga bersaing. Ownernya bela-belain ngirim sendiri barangnya. Free ongkir lagi. Produk-produknya Benq berkualitas dan original. Pokoknya jangan ragu ...
detail
» lihat testimonial
» isi testimonial
BenQ Zone
Century Media | Avatar
Telp : 031-5347514 | 5321220 Fax : 5347514
HP / SMS / WA : 08123288819
info@benqzone-century.com

Toko kami menjual berbagai macam produk IT
Projector, Laptop, Monitor, Komputer dan CCTV, Garansi Resmi, Harga Oke!